Site Updated

Available Adults
---
Ryan has found his forever home!
Ryan a young handsome boy born 3/2/2018 (8 months old) seeks a forever home or family to spend his life with.. His mother Rose is from our original line and has an average lifespan of 10.54 years in her pedigree. His dad is our Euro import champion bred big handsome 125 lb guy.

Ryan has completed 2 puppy obedience and training classes and knows many commands well. He is house trained, crate trained and very loving and affectionate. He does well in the car, gets along well with other dogs and lived with 2 cats in the house hold.

I guess about now you are thinking he is the perfect dog but wait, Ryan will do best in a family that has time to continue his training. He is overly enthusiastic when greeting people including strangers and likes to jump up on people. This is an easy fix with the right training. He is at the age where he gets distracted easily and needs consistent training.. He is like a teenage boy (you know gets into trouble) but with patients and consistency he can grow up just fine and become the perfect obedient member of your family with lots of love to give.

Ryan comes with a 10 day you will love him guarantee. Please call us if you think that you can be that perfect family for Ryan.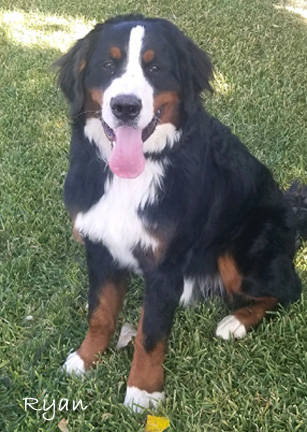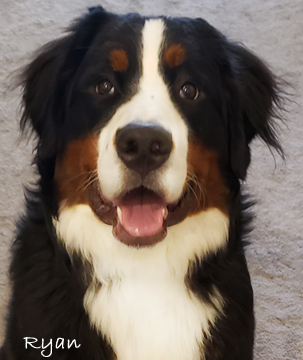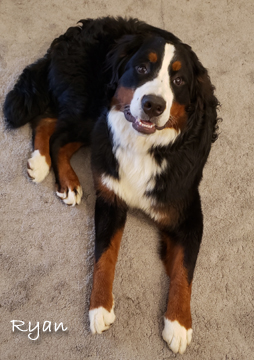 ---

Please e-mail us if you would like to be included on our puppy birth announcement list!




Home | Available Puppies | Available Adults | Testimonials
Our puppies come with a 5 year health guarantee.
So if you are seeking a new companion, please call us for information on present and future litters.
Shipping is available if you or someone who represents you can view the pup in person prior to being shipped. MC/Visa
DeeAnn Noland
Phone # (951) 903-4988
E-mail: FamilyCompanions@msn.com
Teddy Bear Love
Bernese Mountain Dogs™
"Exceptional Dogs for Special People"
This site is operated and maintained by
West Coast Design
All rights reserved. Copyright ©2011