Testimonials
---
We bought our Berner from you in February of 2009. We named him Magellan and we absolutely love him. He is like our child. We are
actually expecting our first baby this next February and we were pretty eager to get Magellan used to children. I just thought you
would enjoy these pictures of our friend's daughter and our dog. He is so patient with little ones which is such a nice quality and is
such a relief considering how big he is! Enjoy! - Brad & Manda
---
Just thought you'd like to see some of the newest pics of Shelbie we took last month while on vacation. By the way, she is scheduled for surgery to be spayed Dec. 1st and I'll be sending you a copy of that paperwork when I get it. As you know she turned one yr old this past Wednesday, the 16th. She's just over 26 inches tall and just shy of 90 lbs. She's very well behaved, and of course - extremely spoiled! Proud parents, Dave & Dee
---
Our beautiful Jack is doing just great. He is so sweet and smart. He is also a little naughty at times and always very goofy. He learned the basic commands very easily and is always eager to learn more. He's 8 months old now and weighs 83 lbs. He loves to visit the local dog park to play with his many canine friends, including Lucy, a 2 ½ year old Berner. He also has a neighborhood girlfriend named Maya that he has play dates with once or twice a week. She's a 5 year old Golden Retriever. He absolutely moons over her. It's really pretty funny. Jack is the love of our life. Thanks so much for bringing him into our lives. Please keep in touch. - David & Holly
---
Beau Foot loves to play with all the toys friends have given him plus the ones we had bought.
He is also a ham when it comes to pictures. He actually stops and looks. He is great!!!!!
---
We are completely in love with our boy Jack. He is healthy, strong, and so smart. He figured out how to use the kitchen step stool to reach things on our counters. He is 95% housebroken and has adjusted perfectly to our home and our lives. It looks like once again you have a house full of puppies. They are so cute. David and I just wanted to remind you that we would be interested in adopting an adult Berner at some point in the future. Please let us know if/when you have a dog looking for a home. Good luck with your new little Berners. - Holly
---
Here are some pictures of Oliver (phantom) at 4 months old! He was in your litter born July 17th and picked up on 9/11. He is doing amazing and living a wonderful puppy life! Just wanted to update you and send over some pics. - Brian & Shannon
---
Cal has settled in well and made a good friend for Sager, Cal is so good and so smart and has adapted so well form his late night flight to the beach and a week at home. I will keep sending pictures and thanks again for all you did for me!I LOVE HIM.... Will
---
We took Donovan to the beach last weekend. It was his first time in the ocean and we weren't sure what to expect. He was fearless when he darted into the ocean but was not too happy when a wave hit him! Now he won't go near the ocean, haha. He's a big baby! We think he might enjoy a lake better where there are no waves. Here are some pictures from our adventure. He weighs about 50 lbs now. Hard to believe! He just loves being near us at all times and has already learned how to sit, stay, lay down, roll over, turn around, and shake! He has made a lot of friends in the neighborhood and loves to wrestle with them. Thanks - Leigh
---
Now that Dudley is seven months old – wanted to send you a picture of our trip to the snow this last weekend. He is the most amazing wonderful boy and we cannot thank you enough for allowing him to join our family. - Renee
---
We love Whitney. She was potty trained and went to her potty pads the day we brought her home. Never have we had a dog so smart. She loves her big boy brothers in the yard and she sleeps in our family room every night to keep her safe at night. She chews on her antlers (that you told us about) and she is a very happy camper here. Thank you for such a wonderful dog. - Carla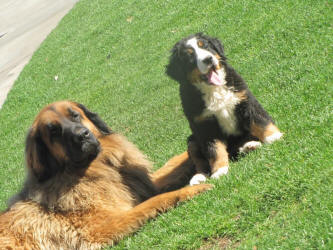 ---
Just wanted to send you some photos of Paul. He is such a great dog. He is too damn cute. Thank you. - Jan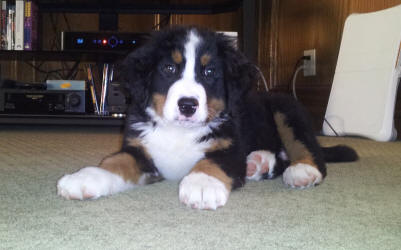 ---
I wanted to send you a quick update and a few pictures of Cricket (her name was Bailee when you had her). She is the best puppy we could ask for! She has already doubled in size and she's happily settled into her new home. She's in her third week of puppy class and loves our two other dogs. Thanks again for working with us. I'll be sure to send you pictures every now and then as she grows up. - Sarah
---
Dallas loves to play with his sister Daisy. When she gets tired she relaxes on her back and that drives him crazy cuz he still wants to play. Everyone get along great even the cat. We love him so much. We are totally entertained by him. Having the older dogs has helped so much. They let him know how to act. He has a different relationship with each one. Bailey my 5 year old is not playful but he gives her kisses and will lay down beside her. Daisy my 3 year old is very playful and they are so funny. He is usually pulling on her tail to get her attention and she loves it. My husband asked me the other night if I had talked to you. And when I asked him why he said cuz I want you to tell her how much I love him. Thank you for Dallas - Suzanne
---
I definitely got the pick of the litter for Ranier's markings are quite magnificent. They did have a gay time of it yesterday. My fenced in back yard allows plenty of room to romp and play, and indeed they did. Gina was pleasant, loves Jake and has done a very good job of training him. I've offered to occasionally pet set for her....that is take him for her long stretches of absence when she has to be at her job, as that is when he is so lonely. We are both committed to allow additional play time.
We both got great pictures so will send along mine as soon as they are developed.
---
We love our "Buddy" which we purchased from you last year. He was born on my birthday Feb 3rd last year. He is a great companion and has become an important part of our family. We would like to purchase another one of your great pups. - Jeff & Marlene
---